Project Description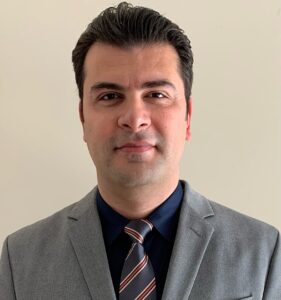 Dr. Amir Reza Bahador
Instructor
Dr. Amir Reza Bahador (IRIMC, IGDA, IAI) is a passionate dentist who has joined Confidentist Group recently. Having Tremendous knowledge and experience in dentistry along with deep insight in to the US and Canadian dental exams, has made him a knowledgeable instructor for international dentists who have a plan to take the INBDE and ADAT exam.
Dr. Amir graduated in 2005 from IAU dental school in Iran, and he was among top students in his school. He has passed NBDE part 1 & 2 exams at his first attempt in 2020. He has also been among the top ten percent scorers of the ADAT exam in the United States in 2020. He has been accepted in prosthodontics residency program at Nova Southeastern University (NSU) in Florida in 2021.  He has contributed in several research projects in Iran and United States. He also has been awarded several dental certificates, specifically in implantology and porcelain veneer laminates. Before immigrating to Canada in 2018, he has been working for twelve years in his private dental center in Iran. Having abundant knowledge and information, Dr. Amir is a reliable adviser for candidates who have planned to enter the US and Canadian dental schools.
Safavi-Naeieni P, Bahador A. Relationship between risk markers for cardiovascular disease and peri-implant disease. Texas Heart Institute. February 2021- present.
Safavi MR, Younessian F, Sadeghniat KH, Badiee MR, Akbarzadeh Baghban A, Bahador A. Efficacy of thermoplastic Mandibular Advancement Device (FullSeep) in Obstructive Sleep Apnea: a preliminary clinical study. Dentofacial Deformity Research Center, Research Institute of Dental Sciences. Tehran-Iran. September 2103- October 2104.
Saebi K, Banava, S, Bahador A. The effect of class two composite restorations on periodontal Health. Islamic Azad University, Tehran, Iran. November 2004- January 2005.
Certifications & Workshops
A. Research workshops
● Introduction to Systematic Review and Meta-Analysis. March 2021
Johns Hopkins University, United States
● Understanding Research Methods. March 2021
University of London, United Kingdom
● Academic research methodology for Master's students. March 2021
Coventry university, United Kingdom
● Discovering your PHD potential: Writing a research proposal. March 2021
University of Leicester, United Kingdom
B. Clinical workshops
● BLS Course March 2021
Heart and Stroke Foundation. Toronto- Canada
● Porcelain Laminate Veneer Course. August- September 2019
Ganjine Teb Pars Institute. Shiraz-Iran
● Morphology and Polishing of Anterior teeth. April 2019
Ganjine Teb Pars Institute. Shiraz-Iran
● Crown lengthening course. October 2018
Ganjine Teb Pars Institute. Shiraz-Iran
● Comprehensive clinical course of Pediatric Dentistry. March 2017
Ganjine Teb Pars Institute. Shiraz-Iran
● Restorative Aesthetic solutions For Direct Composite Veneering. December 2016 16th congress of Iranian association of prosthodontists. Tehran-Iran
● Fundamentals of Implantology. May 2015- November 2106
APADANA TAK Training Center. Tehran-Iran
● 4th Iranian Association of Implantology Summit. October 2016
Iranian Association of Implantology, Hotel Olympics. Tehran- Iran
● SIC Implant System Certificate June 2016
Bone Taj Pars Institute. Tehran – Iran
● SPI Implant System Certificate. April 2015
Bone Taj Pars Institute. Tehran- Iran
● Canal Preparation and Filling and New Instruments for Treatment of Traumatized Teeth. January 2014
Iranian Association of General Dentists. Tehran-Iran
● A review on Root Canal Therapy Sequences. February 2012
Iranian Association of General Dentists. Tehran- Iran
● Fundamental principles of Orthodontic Diagnosis and Treatment. December 2011
Iranian Association of Orthodontists. Tehran- Iran
● Canal Preparation with Rotary System, Canal Obturation November 2010
and Introducing New Instruments in Endodontics.
Iranian Association of Endodontists. Tehran-Iran
● Diagnosis, canal preparation, instrumental accident in endodontics. October 2009 Iranian Association of Endodontists. Tehran-Iran
● Fundamentals of dental office management. November 2008
Iranian General Dentists Association. Tehran-Iran
● Introduction of reinforced glass ionomer posts for reconstruction of damaged teeth. September 2007
Iranian Association of Prosthodontists. Tehran-Iran