Project Description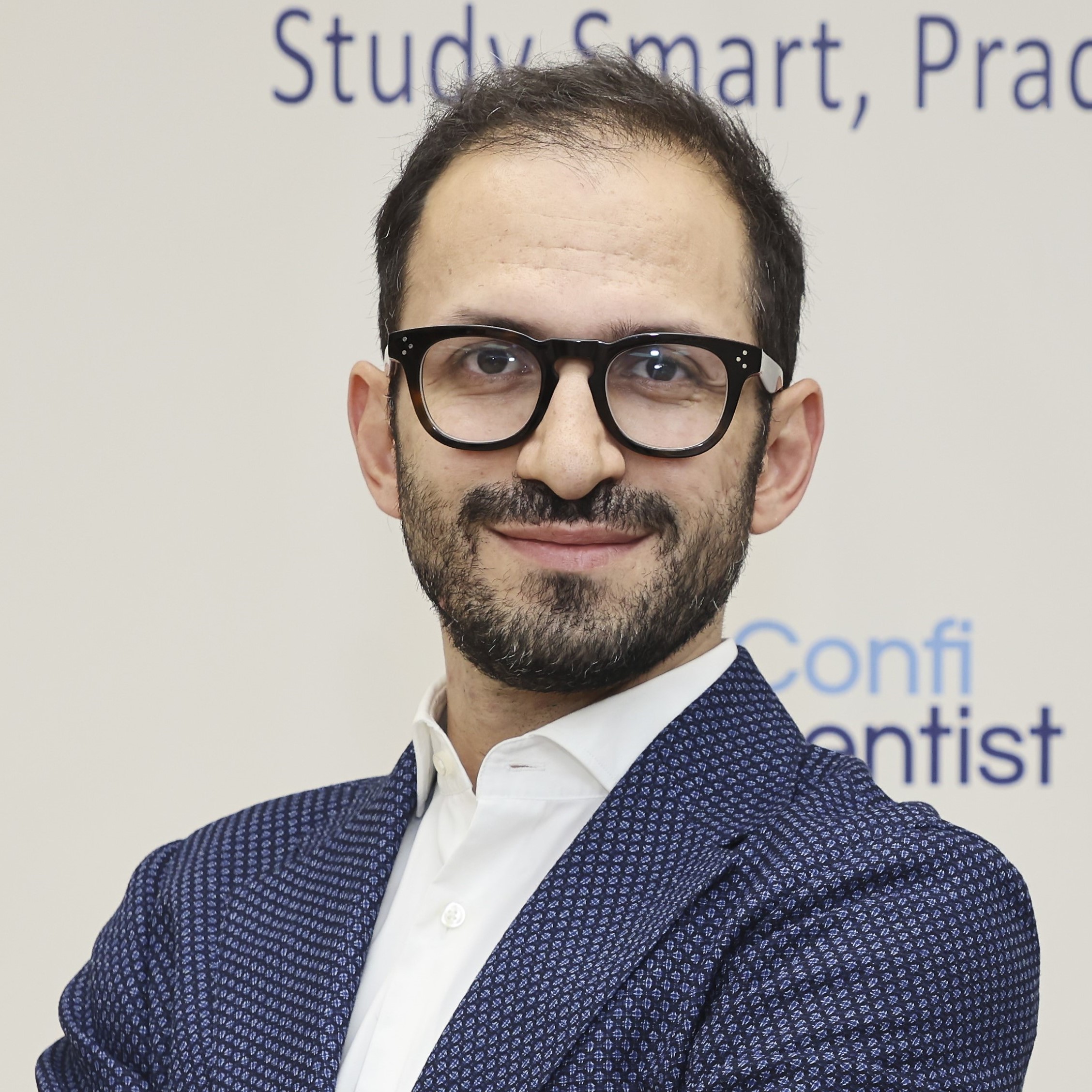 Dr. Mehdi Adibrad
Head Instructor
Confidentist which initially was Dr. Mehdi's solo project owes its existence and achievements to Dr. Mehdi Adibrad's efforts.  With his relentless attitude and passion for his profession, Dr. Mehdi as a Dentist, Oral Surgeon, Periodontist, Implantologist, and Instructor has a long and profound resume abound in several brilliant achievements such as; Top rank of the Periodontology board exam of Iran, the first rank among graduate dental students of Shahid Beheshti University and several other student honors,  top Postgraduate thesis, several publications in prestigious academic journals and finally been exceptionally successful in NDEB exams in his time (first rank in AFK exam).
Dr. Mehdi is a member of numerous International and Canadian dental institutes such as the Royal College of Dental Sergoin of Ontario, Ontario Dental Association, Academy of General Dentistry, International Association of Dental Research, and American Association of Periodontology.
Since becoming a Canadian dentist, Dr. Mehdi, as a founder of Confidentist has devoted all his expertise and experiences to empower his successor international dentists to have a smoother path in the journey of becoming a Canadian dentist.
Professionalism and attention to detail are among the distinctive traits of Dr. Mehdi which make him a great instructor for Confdentist's clients and inspiration for the Confidentist's team.
NDEB Dental Certificate as a qualified dentist to practice in Canada (2014)
MSc in Periodontics and Dental Implantology, Dental School, Isfahan University of Medical Science, Isfahan, Iran "GPA: 3.86/4" (2007-2010)
DDS in Dentistry, Dental School, Shahid Beheshti University of Medical Science, Tehran, Iran "GPA: 3.82/4" (2001-2007)
Awards and Professional Achievements
First rank in Canada's NDEB Assessment of Fundamental Knowledge (AFK) exam (2013) (among 1187 participants)
2nd rank in the Periodontology Board Exam of Iran (2010)
Academic award of appreciation from the Iran Minister of Health and Medical education (2010)
Top Postgraduate Thesis (Comparative study of Th17 characteristic factors in chronic periodontitis and normal periodontium using immunohistochemistry) (2010)
1st rank among the graduated dental students of Shahid Beheshti University with a Grade Point Average of 3.82/4 (2007)
5th Rank in Iran National Examination on Dental Basic Sciences (equivalent to NBDE Part I) in the country (2004)
Excellent Student Honor (1st rank), school of Dentistry, Shahid Beheshty University of Medical Sciences, Tehran, Iran. (2004-2005)
Excellent Student Honor (1st rank), school of Dentistry, Shahid Beheshty University of Medical Sciences, Tehran, Iran. (2002-2003)
Rank 52 among 500,000 Iranian students participating in the "universities entrance exam" (2001)
Royal College of Dental Surgeon of Ontario
Ontario Dental Association
Academy of General Dentistry
International Association for Dental Research
Iranian Association of Dentistry
American Association of Periodontology
Dentist and Oral surgeon; private practice in Toronto (2014-present)
Instructor and tutor for internationally trained dentists for Fundamental, Judgment and skills exams(2013-present)
Periodontist, Implantologist (2009-2012)
Dentist (2007-2009)
Researcher, Prof. Torabinejad Research Center (2008-2010)
Publications in English:
Adibrad M, Deyhimi P, Ganjalikhani Hakemi M, Behfarnia P, Shahabuei M, Rafiee Signs of the presence of Th17 cells in chronic periodontal disease.J Periodontal Res. 2012 Aug;47(4):525-31.
Adibrad M, Shahabuei M, Sahabi M. Significance of the width of keratinized mucosa on the health status of the supporting tissue around implants supporting overdentures. J Oral Implantol. 2009;35(5):232-7.
Sahabi M, Adibrad M, Mirhashemi F, Habibzadeh S. Biomechanical Effects of Platform Switching in Two Different Implant Systems: A Three-Dimensional Finite Element Analysis. J Dent (Tehran) 2013;10(4):1-13.
Birang R, Yaghini J, Adibrad M , Kiany S, Mohammadi Z, Birang E. The effects of diode laser and chlorhexidine gel in the treatment of chronic periodontitis. J Lasers Med Sci. 2011; 2(4):131-8.
Geramy A, Adibrad M , Sahabi M. The effects of splinting periodontally compromised removable partial denture abutments on bone stresses: a three-dimensional finite element study. J Dent Sci 2010;5(1):1−7.
Publications in Farsi:
Shahabuei M, Dabbagh E, Adibrad M , Vaziri S, Eslami B, Karimi Afshar S. The Effect of Platelet-rich Plasma (PRP) and Bio-oss on Bone Regeneration in Furcation Class II Defects: A Histologic and Histomorphometric Study in Dogs. Shiraz Univ Dent J 2011;12(1):1-10
Moghareh Abed A, Ansari Gh, Tavakoli M, Adibrad M. A Review of the Use of Dental Implants in Children with Tooth Agenesis. Journal of Isfahan Dental School 2010;6(1):49- 57
Shahabouei M, Hekmatian E, Adibrad M , Bahador Ghobadi A. Accuracy of vertical bitewing and bisect periapical radiography techniques in anterior mandibular teeth interdental bone resorption using grid sheet. Journal of Isfahan Dental School 2009;5(3):126-133
Sahabi M, Gerami A, Adibrad M. Evaluation of fixed splinting in periodontally compromised abutments of RPDs utilizing 3-D finite element method (FEA). Journal of Islamic Dental Association of Iran 2009;21(1):40-49
Wismeijer D, Casentini P ,Gallucci G, Chiapasco G. ITI (International Team for Implantology) treatment guide. Volume 4: loading protocols in implant dentistry. Edentulous patients. 1st ed. UK: Quintessence; 2011 ( Farsi Translation, 2012)
Cohen S, Hargreaves KM. Pathways of Pulp. 9th ed. St. Louis: Mosby. 2006 ( Farsi Translation, 2007)
Hassanizade R, Adibrad M. Last Limit of Dentistry. 1st ed. Iran: 2005 (Publication in Farsi).
Journal of Oral Implantology (2010-present)
Journal of Periodontology (2012-present)